Donnie Pogue Visit
Donnie Pogue first contacted the Women's Club about a year ago, sharing his relationship to JWC Pogue. He was writing a family ancestry for his own family, and thought that some of the information would be of interest to our Women's Club and it's collection of history. He would like to share it with us.
Then I didn't hear from him for a long while. On a warm day in June 2019, I got an unusual call from the Lemon Cove Postmaster. There was a gentleman asking about me, and was I available to come down to talk with him? Of course! And that's how I met Donnie Pogue for the first time.
A man full of information and stories - really excited about his research. He had toured Lemon Cove and parts of Woodlake, taking pictures of Pogue family homes, and checking out our clubhouse, which JWC built. He was a joy to "talk Pogue" with.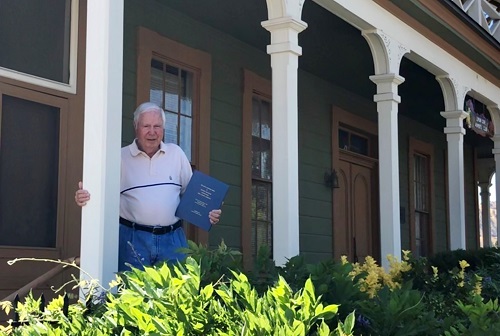 Above: Mr. Donnie Eugene Pogue on the porch of the historic Pogue Hotel, June 2019. He is holding a copy of his book, The Pogue / Hoskins Family of Between The Rivers Golden Pond, Trigg County, Kentucky.
He had a signed book for our history collection absolutely full of information about the Pogue family in Tennessee. As a result, we have a wonderful ancestry tree for JWC, going back 5 generations before he made his move to California on the Blair/Moffett wagon train.
Thank you, Mr. Donnie Pogue for going far out of your way to share it all with us. The book will be on display at the Clubhouse.
Below: An abbreviated family tree showing the branch between what would become the Kentucky and Lemon Cove Pogue families.